To blast off, LINK & PIN's first event on
October 20
th
will feature a range of performance artists including Helene Vosters, Atellis the Blue Joce, Maryam Taghavi and Thea Fitz-James as they investigate the intersection of feminisms, textiles/craftivism, and performance. FEMINIST FIBRES hopes to look more closely at recent trends in re-appropriating and politicizing craft and textile work that has, historically, maintained a gendered and marginalized status in the art world.

For this event, we are lucky to have two brilliant writers, Alla Myzelev and Kelsy Vivash, who will respond to the event with texts- so check back on the blog for updates! We are also bowing down to the stunning Brette Gabel who is creating an edible work of art in the form of TOPICAL DESSERTS for the open Discussion Forum that will follow the performances. Thea Fitz-James' 6 hour durational piece will be performed from 8am-2pm. Shorter pieces will begin at 2pm, followed by the Discussion Forum for which you are invited to stay and share dessert and tea while talking about the work.
WHAT
: LINK & PIN - Feminist Fibres

WHEN
: October 20th
Durational performance, 9am-2pm

Shorter works begin at 2pm, followed by dessert and discussion.

WHERE
: hub14

HOW MUCH:
$10 PWYC

SELECTION OF ARTIST'S PIECES

Voster's Embroidery for the Forgotten Dead of History: Shot at Dawn (a preview performance) uses embroidery to draw attention to and disrupt narratives produced through the nationalist and militarist commemorative practices which act as frames that inscribe certain events and losses into social memory, while casting "others" (events and populations) beyond the realm of our (dominant) collective memory. Fitz-James' durational 8-12 hour Needle Piece asks us to rethink the divisions of art and craft, tailors and seamstresses, male and female via an exploration of the body co-creating with the needle. Atellis the Blue Joce's piece What box is this? asks how one "fits in" when nothing fits.


ARTIST BIOS

Adriana Disman is a performance art maker, thinker, and curator based between Toronto and Montreal. Her curatorial practice is particularly interested in cultivating connections between audience members by creating simple structures surrounding the work itself, such as a walk or a meal. She is currently pursuing her M.A. in York University's Theatre and Performance Studies Program and is editorial assistant at the Canadian Theatre Review. Disman also sits on the board of directors for The School of Making Thinking, an experimental college and artists' residency in the Catskills, NY. She is a graduate of the Neighborhood Playhouse School of the Theatre (NYC).
www.adrianadisman.com


As a lifelong performer of various forms, Atellis the Blue Joce has most recently been exploring, for very experiential reasons, what it can mean as Subject to be a "broken piece of art." This has included considerations of the psychologies of suffering, body work as pain management, recuperation as perpetual work in progress, scars as mark making and renaming-reinvention, among other strategies.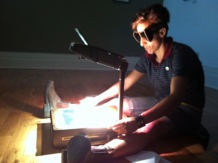 Photo Credit: Brescia Bloodbeard


Thea Fitz-James is one part academic, one part journalist, and one part theatre maker. She holds a masters degree in Theatre Studies from York University (Toronto), where she fell in love with feminist theatre and explicit body art. This is her first foray into the Toronto art scene, and she is eager to explore the possibilities of textiles and the female body on stage.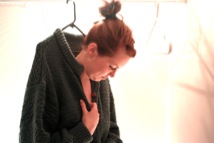 Photo Credit: Kallee Lins


Helene Vosters is a PhD candidate in Theatre and Performance Studies at York University (Toronto) where her performance and research focus is on the role of public mourning practices in the construction of narratives of death related to militarism and war. Helene performed her durational memorial projects Impact Afghanistan War and Unravel: A meditation on the warp and weft of militarism throughout Canada, the U.S. and Europe. Shot at Dawn, to be performed 11 November 2013, will be the first of an ongoing series of Embroidery for the Forgotten Dead of History memorial projects and performances.
www.helenevosters.com



Photo Credit: Cassie Scott


Maryam Taghavi graduated from Emily Carr University, Vancouver in 2008 and since then has been working across diverse mediums, ranging from drawing, performance, sculpture and site specific installation; nonetheless issues surrounding adaptation, displacement and collapse remain constant in her work. The body serves the focal point in the process and production of her work where it operates both as a subject and an agent. Her work has been exhibited in Canada, Mexico and Iran and recently published in FUSE magazine. www.maryamtaghavidotcom.wordpress.com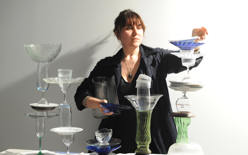 Photo Credit: Henry Chan


DISCUSSION

Alla Myzelev is a Senior Visiting lecturer in the department of Art History in Bloomsburg University of Pennsylvania where she teaches courses on historical and contemporary art and museums. She is working on two collected volumes of essays, one on contemporary feminist art practice and the other is on displaying craft and design inside and outside of traditional museum setting. Myzelev is finishing a manuscript on architecture and design of the twentieth century Toronto. She is one of the contributors to the Nelson's Modules project in Canadian History to which she contributed chapter on the Nationalist art of the Group of Seven.
Myzelev is a co-editor (with Dr. John Potvin) of Material Cultures, 1740–1920 The Meanings and Pleasures of Collecting(Ashgate, 2009) and Furniture, Interior Design, and Contours of Modern Identity (Ashgate, 2010). She had contributed to such academic journals as Craft Research and Textile: Journal of Cloth and Culture, Journal of Modern Craft, and Craft Journal. Her main areas of interest are Russian and Ukrainian Avant-garde, British and Canadian design and architecture, knitting revival and other and historical and traditional craft practices.Her most recent article titled "Creating Digital Materiality: Third Wave Feminism, Public Art, and Yarn Bombing looks at the intersections and interactions between feminism and fiber practices. She is a celebrity blogger for Craft and Popular culture blog http://craftandpopularculture.com/Intro.


Kelsy Vivash is a doctoral student at the University of Toronto's Centre for Drama, Theatre and Performance Studies. Her current research focuses on the secretions and excretions of the body as related to subjectivity and presented within the performative frame. She has presented at both the TaPRA conference (University of Kent, 2012) and PSi (Stanford University, 2013), and has recently published an article on the works of Millie Brown in alt.theatre magazine. She is currently developing a performance practice that aestheticizes both the internal and external embodiment(s) of 'flow'.