BIG PLANS
SUMMERWORKS at hub14!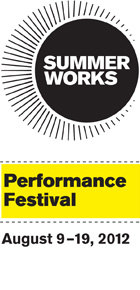 BIG PLANS
Gordon and Henry met on the internet; now their dreams can come true. Locked in Gordon's apartment, they have one night, a frying pan, and big plans. A dark comedy based on the infamous Rotenburg Cannibal, who wanted just one thing: "a willing victim, to be slaughtered and then consumed."
Playing in the round at the hyper-intimate Hub 14,
BIG PLANS
premiered after only six days' rehearsal at the Freestanding Room, a comparable space in Montreal. This is an in-the-rough production: alive, raw, and ever reinvented before your eyes.
"Ephemeral … fascinating … a new idea, a new approach." —
Charlebois Post
Directed by Tanner Harvey
Starring Karl Graboshas, Leni Parker & Andy Trithardt
Production Design by Kaileigh Krysztofiak
August 9th - 18th @ 8 pm / 19th @ 2 pm
hub14
/ 14 Markham Street, Toronto
tickets:
ticketwise.ca
/
416-915-6747
info:
bigplans.freestandingroom.com